Offers of the Faculty of Law
In addition to the lawjob fair, the Faculty of Law also offers legal consultations (family law and students).
The "basel lawjob fair" is held every year at the Law Faculty of the University of Basel. This job fair for prospective and working lawyers has been held once a year in March since 2008.
The "basel lawjob fair" offers interested lawyers and law students the opportunity to get in touch with law firms and companies in an informal atmosphere, to gather information and to explore job opportunities for (short) internships and first permanent positions.
Participation in the "basel lawjob fair" is free of charge for candidates. It is aimed at both trained and prospective lawyers looking for a job or internship. People who have not studied at the Law Faculty of the University of Basel can also participate.
Further information can be found on the event website, where interested employers can register from November and applicants from December.
The basel lawjob fair takes place every spring at the Law Faculty of the University of Basel, Peter Merian-Weg 8, 4052 Basel (near the SBB train station). You will find the date in the news section: Events.
For students of the University of Basel, the Career Service Center (CSC) exclusively offers two application preparation events in the run-up to the respective lawjob fair:
Appearance skills for job interviews
Next Step CSC Mobile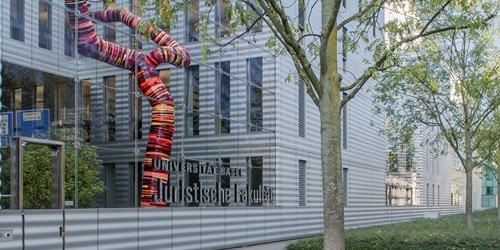 Faculty of Law: lawjob fair
Dr. iur. Karin Sutter-Somm
Peter Merian-Weg 8
4002 Basel
Tel: +41 61 207 28 71
The Faculty of Law at the University of Basel offers legal advice in the area of family law for all those seeking legal assistance. The legal advice is free of charge and absolutely discreet.
Head
Prof. Dr. Jonas Schweighauser, titular professor at the University of Basel, advocate with a focus on family law (with the assistance of three students at a time).
Area of expertise
Family law, in particular marriage, marriage protection, marriage separation, divorce, child law and child protection.
Location
Kollegiengebäude der Universität Basel, Petersplatz 1; room 105 (if attendance classes are not possible, the consultation will take place via ZOOM).
Dates and time
Counselling will take place on the following dates on Wednesdays from 5 to 7 p.m.:
08.03.2023, 22.03.2023, 05.04.2023, 19.04.2023, 03.05.2023, 17.05.2023, 31.05.2023.
Registration
On the counselling days from 4.45 to 6 p.m. directly on site without pre-registration. If no face-to-face counselling is possible: pre-registration by mail until the day before to: j.schweighauser@clutterunibas.ch (no pre-registration required).
The Faculty of Law, in collaboration with SKUBA, offers free legal advice to all students at the University of Basel. Inquiries can be submitted directly via form. Afterwards, if the question cannot already be answered in writing, a consultation appointment will be arranged.
Direction
Law students take over this under the supervision of an advocate.
Area of consultation
Inquiries from all areas of law except family law (for this, please contact the separate legal advice service) are processed.
Place and time
By arrangement.