Honorary doctorates of the Faculty of Law
The Faculty of Law of the University of Basel honours personalities for their outstanding services to law by awarding them the title of Doctor of Law (Dr.h.c. - Doctor honoris causa).
Bryan A. Stevenson, honorary doctor of the year 2019
The Faculty of Law awards the doctorate honorary to Bryan A. Stevenson, Prof., Founder and Executive Director of the Equal Justice Initiative,
who for decades has been fighting tirelessly and with great commitment against racially motivated discrimination in the US criminal justice system;
who, through influential publications, has contributed to making these abuses a topic that has also become a topic of public awareness and discussion;
who, as a professor, contributes to sensitizing future generations of lawyers to the issue.
https://www.google.ch/maps/place/Juristische+Fakult%C3%A4t+der+Universit%C3%A4t+Basel/@47.5453217,7.5970346,15z/data=!4m5!3m4!1s0x0:0x78517837633911c7!8m2!3d47.5453217!4d7.5970346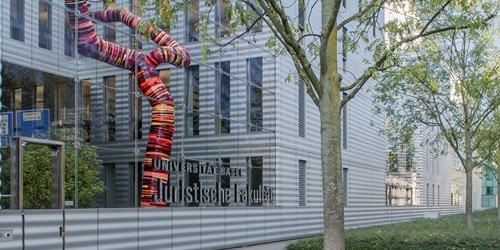 University of Basel
Faculty of Law
Peter Merian-Weg 8
4002 Basel