Faculty Award of the Faculty of Law
The Faculty of Law of the University of Basel honours graduates with the best degree for their outstanding dissertation by awarding them the Faculty Prize.
Raphaela Cueni, prizewinner of the year 2019
The prize of the Faculty of Law, donated by the law firm VISCHER, is awarded to Dr. iur. Raphaela Cueni, who, in her dissertation "Protection of satire in the context of freedom of opinion", develops a concept of freedom of opinion against a comparative law and international law background, describes a constitutional concept of satire under the guidance of literary scholarship, and traces the protection of fundamental rights in all areas of the legal system in a differentiated and coherent manner.
https://www.google.ch/maps/place/Juristische+Fakult%C3%A4t+der+Universit%C3%A4t+Basel/@47.5453217,7.5970346,15z/data=!4m5!3m4!1s0x0:0x78517837633911c7!8m2!3d47.5453217!4d7.5970346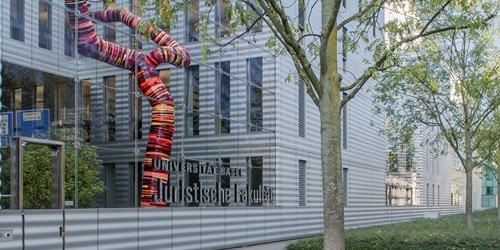 University of Basel
Faculty of Law
Peter Merian-Weg 8
4002 Basel