Facility Management: Jacob Burckhardt-Haus (JBH) 6 und 8
The facility management (Karl Alter and Davide Coppi) takes care of the following issues:
Ordering office supplies
Room reservations (in-house)
Key management
Seminar room management
House and building technology issues (no IT topics)
Karl Alter and Davide Coppi are equally responsible for the caretaker service and thus also for the reception and handling of requests in both buildings or both faculties (Faculty of Law and Faculty of Economic Sciences). In order for an efficient service to be provided, it is important that all notifications, enquiries etc. (including room reservations, ordering and issuing office supplies, key management etc.) are directed to the caretaker's telephone number and e-mail address.
We are happy to receive your requests for the Faculty of Law and the WWZ in our service office (office EG.44.1) in the WWZ building. Please note our different opening hours below during the semester and in between semesters. The on-call service of PostImmobilien can be reached on +41 79 699 90 33.
Attendance times during the semester
| Weekdays | Time | Who? |
| --- | --- | --- |
| Monday–Friday | 07:00–12:00 / 13:00-18:00 | Janitors (Alter/Coppi) |
| Monday-Friday | 18:00 until the end of business hours | On-call service: PostImmobilien |
| Saturday-Sunday | All day | On-call service: PostImmobilien |
Attendance times in the intermediate semester
| Weekdays | Time | Who? |
| --- | --- | --- |
| Monday–Friday | 07:00–12:00 / 13:00-16:30 | Janitors (Alter/Coppi) |
| Monday-Friday | 16:30 until the end of business hours | On-call service: PostImmobilien |
| Saturday-Sunday | All day | On-call service: PostImmobilien |
Office supplies and room reservation (location: Jacob Burckhardt-Haus)
Link to the Facility Management of the University of Basel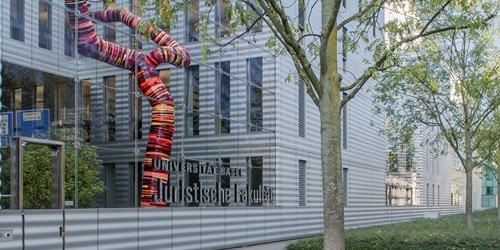 Facility Management
Jacob Burckhardt Haus
Peter Merian-Weg 6
PF 4002 Basel
Tel: +41 61 207 25 46